Chinese clothing is one of the most affordable in the world. The reality is that it offers incredible prices without lowering its quality of manufacture.
China is also one of the largest e-commerce markets and a leading exporter. Wholesale clothing from Chinese online sites is the right choice for business start-ups. Business people of different countries buy bulk clothes at a reasonable price from these wholesale clothing stores.
Nowadays, online clothing stores had made it easier to connect between suppliers and business holders who are far apart but still made their businesses grow and reach heights.
Moreover, these individuals, companies, and consumers mostly prefer to buy Chinese clothing to avail wide range of categories, low prices, and fast delivery given by Chinese online stores. Buying fine quality and low-priced wholesale clothing for business is surely a wise decision.
Let us know more about why business startups prefer wholesale clothing from China, the top 19 cheap Chinese online clothing stores, and other details so that you can run your startup smoothly and accomplish the most in the shortest possible time to achieve your goals.
Why Wholesale Clothing from China?
Wholesale clothing from China can give you benefits that many others would not. That is why it is the country chosen to start your clothing business. But let's analyze some reasons in detail.
Due to the increase in online clothing sales ventures, China has positioned itself as one of the most chosen countries for wholesale clothing sales, according to a study carried out by Euromonitor. This study, in 2019, showed an increase in annual clothing sales, reaching a total of $ 333,312 million, a value that is increasing every year compared to 2014, where an income of $ 267,246 million was recorded. According to a report provided by Business.com, this increase is because the Chinese e-commerce market is the largest in the world ($ 672 million), surpassing the US ($ 340 million). China leads with mobile e-commerce and trusted mobile payments.
Another reason for buying clothes from a Chinese wholesale website is its variety of products, which many other wholesalers lack. This is because many of this renowned e-commerce, in turn, have other stores included, which broadens the variety of customer purchases.
Today everyone has a smartphone with an internet connection, the main tool for shopping online. This was reflected in a report carried out by IBISWorld, which confirms that in China in 2018, there was an increase of 30.5% in online purchases compared to 2013 because 802 million citizens of this country have access to the Internet.
All Chinese wholesalers have a website that facilitates and helps people from other countries better understand what these suppliers offer. On the other hand, these web pages are adapted to PC and mobile, making their access even easier. However, what most attracts customers are their low prices.
Also, practically all Chinese wholesalers offer free shipping if you buy in bulk through their e-commerce. On the other hand, if customers are in very distant countries, there may be the possibility that there is a very minimal fee. This helps customers save money as these Chinese wholesalers also often offer juicy discount coupons and prizes or rewards for bulk purchases.
Top 19 Best Cheap Chinese Online Clothing Websites
1. Made in China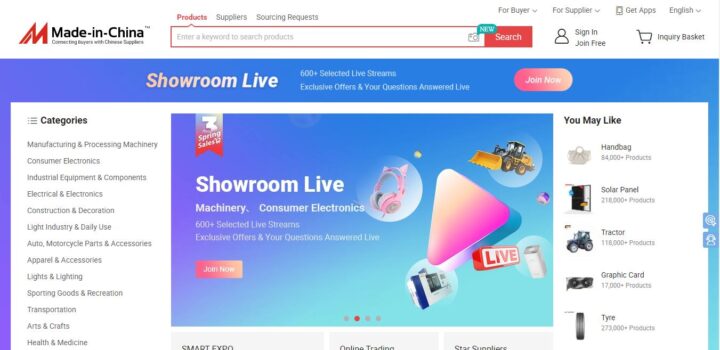 Made-in-China has a great reputation in the B2B world since it has been offering its products since 1996, so we can say that the revolution of its products is at its greatest point.
Made-in-China, unlike other platforms, does not get involved in the payment and delivery process but allows buyers and sellers to enter into a relationship. A buyer looking for a product can make an offer so that interested suppliers can send him conditions or prices.
You can also access the products registered by the producers on the portal, with the associated rates and requirements. Regarding the security of this page, you should not worry. You are in good hands since it is run by Focus Technology Co., Ltd., which was listed on Shenzhen Stock Exchange in 2009.
2. Chinavasion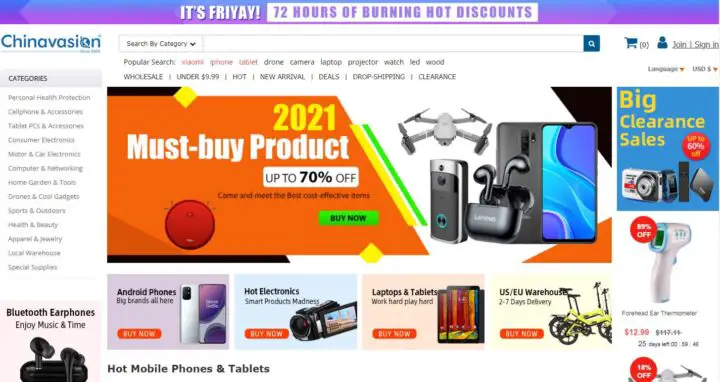 Chinavasion is an online store to buy mainly wholesale, and it is located in Shenzhen, China, the renowned metropolis with the largest amount of consumer electronics in the world.
They offer 18 different categories: cool and cheap gadgets and devices, Android tablets, phones, TV Boxes, DVD players, smartwatches, car accessories, cameras, LED lights, Christmas gifts, and more. Chinavasion started as an electronic hub but has now become a popular B2B electronics supplier in China at very competitive prices capable of shipping products worldwide.
The website offers dropshipping services, and they provide professional images and descriptions of the products.
3. Everbuying
(Updated: Their website was down on June 18, 2018)
Everbuying is an online Chinese wholesale store that sells all kinds of products at really very low prices. All the products and articles sold online in this store are manufactured in China and exported to the country you want without any cost and even offer 30 days money-back guarantee.
Among the multiple shopping options in this store, you can buy cell phones, computers, car accessories, tools, consumer electronics, watches, sportswear, toys, jewelry, swimwear, camping and hiking tools, glasses, and beauty products, and health care, among other things at great prices.
4. GearBest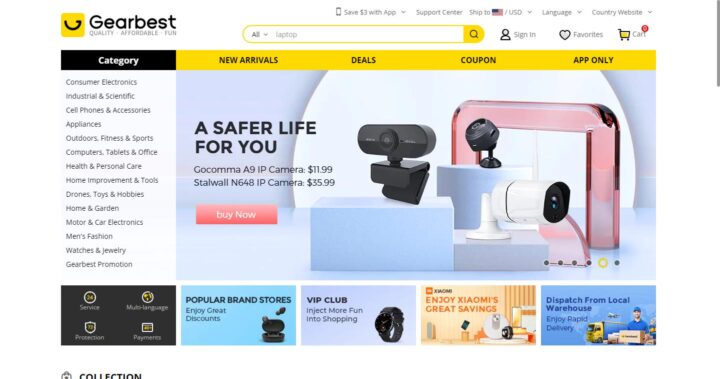 GearBest has its headquarters in Shenzhen, a city in China where different technology manufacturers are located. The store maintains a direct relationship with the manufacturers to maintain the lowest prices by not having an intermediary and working with different companies in charge of logistics and shipping, making many products have free shipping.
Buying on this Chinese online store is very easy and safe and has an excellent reputation for the low prices it offers and its quality. They also offer discount coupons and different payment methods.
You can buy any product you can imagine since they are divided by categories, or you can use their search menu to search for a specific product.
5. Dresslily.com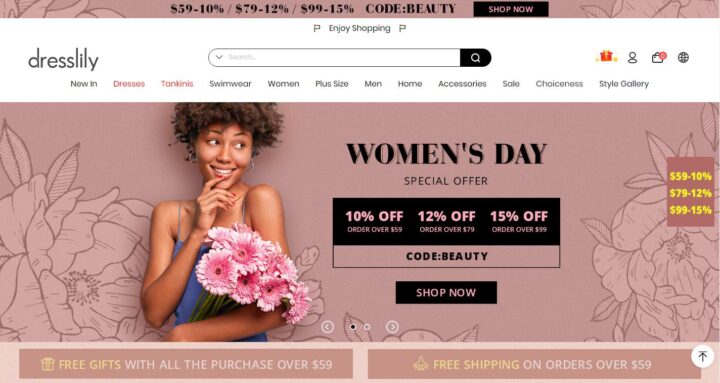 This is also a Chinese online clothing and accessories store, perhaps, it is not so well known by many, but you should take it into account as an alternative, especially if you are looking for women's clothing: dresses, swimsuits, etc., although you will also find clothes for man.
Dresslily is an interesting website. Besides, it offers plus sizes clothe and buy on the website is really easy. Also, you can find your country currency so you can see the prices in your local currency. It is reliable e-commerce and has good feedback.
6. Chinabrands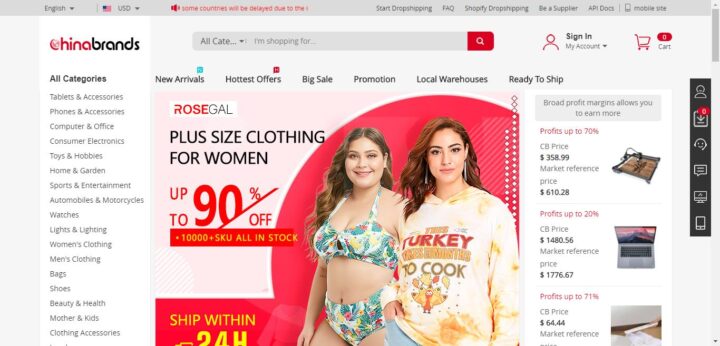 In Chinabrands you can find a lot of products, all different. This company connects retailers to customers and wholesalers. In this way, Chinabrands offers users an alternative way to have their own online store, selling the products that appear on its platform to third parties.
The article prices are variable. As for clothes, it is quite inexpensive, between about $ 2 to $ 38. As for the brands, the store works a great variety. In smartphones, for example, Xiaomi, Oukitel, OnePlus, Lenovo, among others, work.
7. AliExpress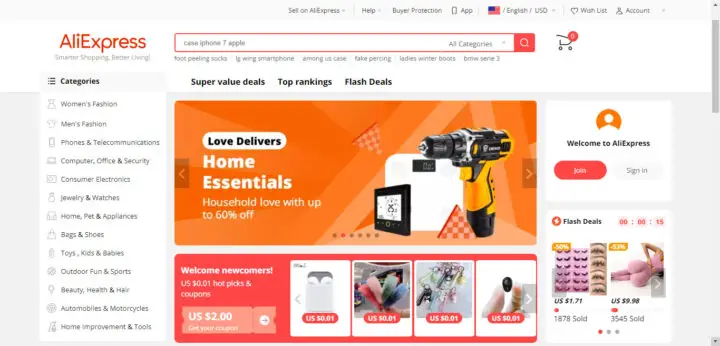 Aliexpress is a well-known wholesale portal. It is the Alibaba subsidiary dedicated to retail
e-commerce, in direct competition with Amazon. However, as they offer products that are sometimes very cheap, it can be interesting for a person who wants to import products from China to sell them in Europe, America, etc. buy on Aliexpress in small quantities and test the acceptance of the product by potential customers.
To buy a product, you have to register on the site. To choose the product, you have to mark the preferences such as size, color, and quantity. Right there, you must choose the shipping method, according to which an estimated price and time will be shown.
8. Zaful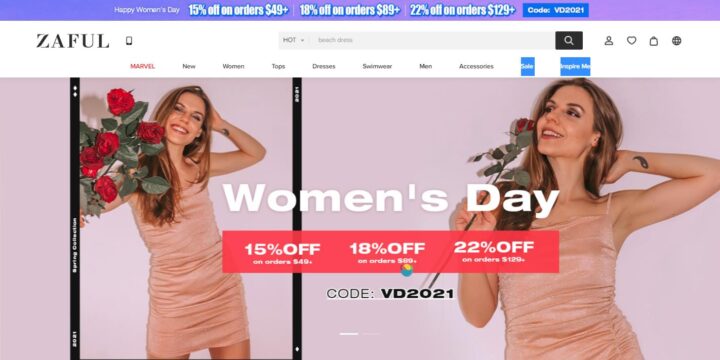 In this Chinese clothing store, we can find only women's clothing. Zaful's page is elegant and offers an elegant design like its products. Women from all over the world choose this store for the wide variety of garments (Swimsuits, Dresses, Tops, Sportswear, accessories, and bags) and above all for its excellent prices.
Buying with Zaful has its benefits: free shipping for purchases over $ 49, a 30-day money-back guarantee, discounts for new users and even students.
9. LovelyWholesale.com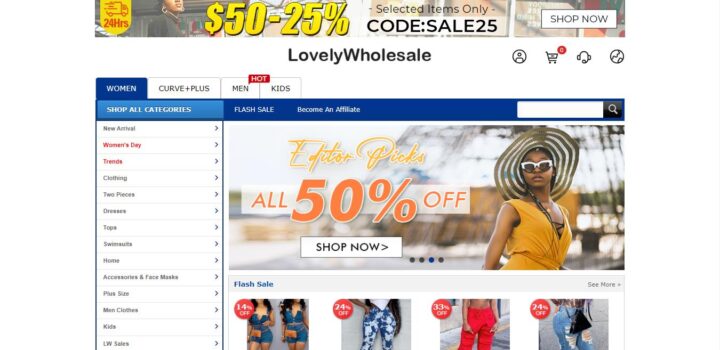 Lovelywholesale is a Chinese online store where you can find youth fashion clothing, jewelry, lingerie, and many other wardrobe accessories. Especially for women, the sections of rompers, party dresses, jeans, bikinis, pajamas, and especially shoes stand out.
Many users have discovered this store thanks to the discounts and promotions that apply weekly. An opportunity to buy cheap. Its payment gateway has SSL encryption, which guarantees robust security. As for shipping costs, this will depend on the distance in which you are from China.
10. DHGate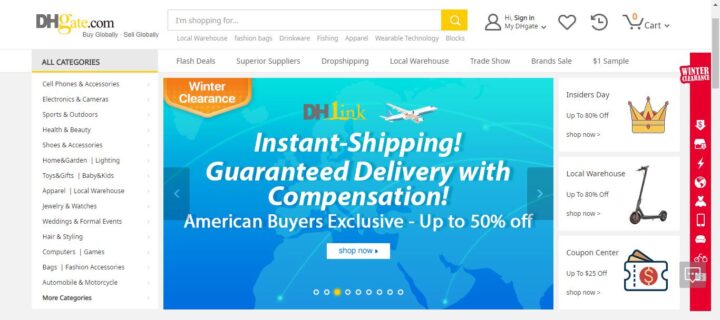 DHgate is a B2B platform that operates since 2004. It is an e-commerce portal that allows the sale of manufactured products from small and medium-sized companies to customers and one of the main pages to buy in China. It also provides international payment services, logistics services, transaction escrow services, and Internet financing services.
The page has 1.2 million registered suppliers, with about 3 million products listed on the platform, to serve 10 million customers from 230 countries.
11. Shein.com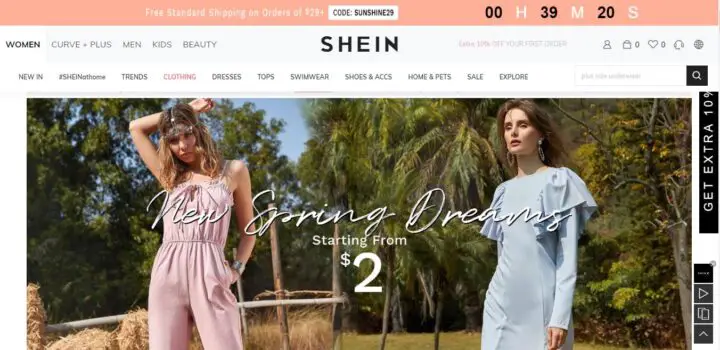 Shein is a great page to buy Chinese clothes online. It offers discounts of up to 70% on its garments, and the truth is that its variety is amazing. It offers categories such as dresses, blouses, sweaters, sweatshirts, coats and jackets, tops, plus size clothing, pants, lingerie, and underwear.
It has clients in more than 230 countries, and you can receive your purchase in no more than 8 working days. Also, the site offers a 21 days returns policy if is necessary.
12. Wholesale7.net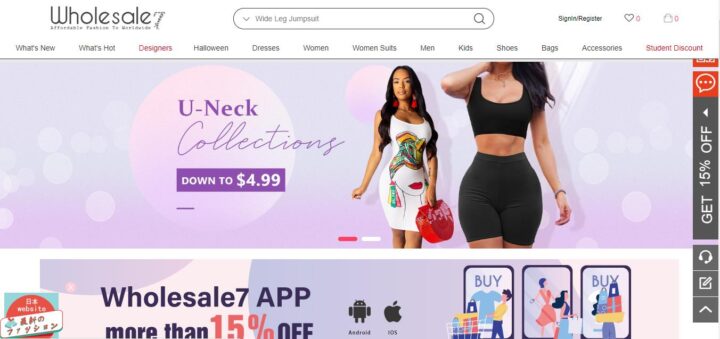 Wholesale7 is a Chinese online store known for selling clothing wholesale. Its designs mainly focus on the Japanese and Korean styles, thus following the latest trends in fashion magazines. After several years of development, the professional experience has remained at the top, offering good service, quality products, and honesty.
The dresses stand out, but they have all kinds of garments for women, from shirts, blouses, pants, skirts, jackets, sportswear, and bikinis. To a lesser degree, they also have stock for men and kids.
They also have fashion accessories, such as glasses, necklaces, earrings, belts, wigs, rings, etc. You can also buy products related to the home.
13. Tomtop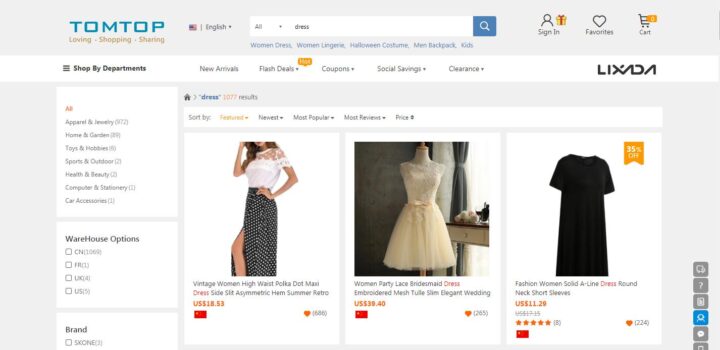 TomTop has existed since 2004, and since 2006 it has been certified gold by Alibaba, so it is also one of the most relevant pages to buy in China. It claims to have over 1 million products on its platform.
The suppliers it works with come mainly from China, specifically from Guangdong province. It is a growing page, and they specifically ask their customers to suggest products if an item they are looking for is not referenced to look for potential suppliers.
It is a wholesale portal that focuses primarily on inexpensive electronics, clothing, and home and garden products.
14. Light in the Box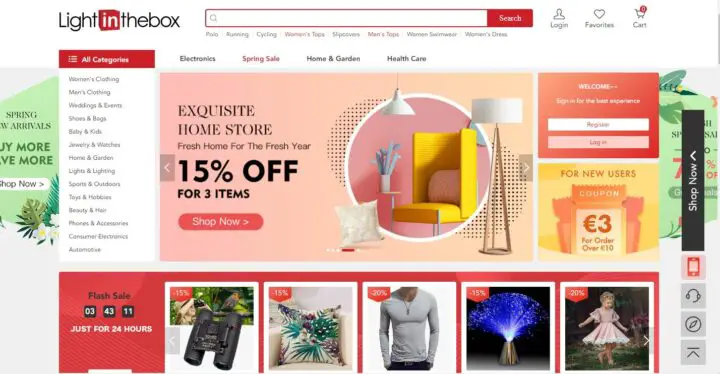 This is more of a retail platform like Aliexpress or Amazon. It is a company founded in 2007 and listed on the stock market.
If there is something positive about LighInTheBox, it is that it has a huge amount of products/garments. It has more than 50,000 items uploaded to its website. It is one of the best online stores to buy Chinese clothes.
You can find party dresses, urban clothing, tops, sweaters, coats, pants, skirts, bikinis, pajamas, underwear, and much more.
Its prices and guarantees are highly recommended. It also constantly offers juicy deals of up to 90% off¡ªsomething to take advantage of without a doubt.
15. Tasha Apparel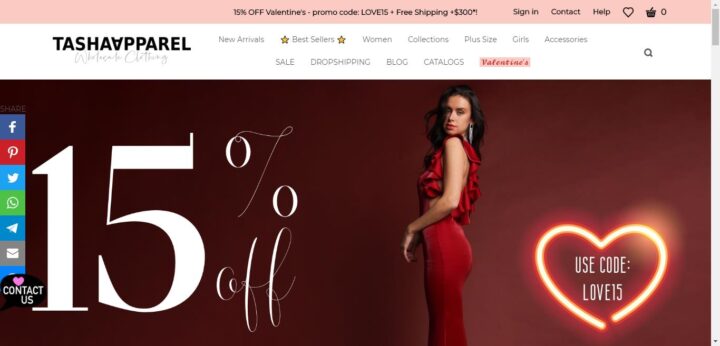 This website is well known since 2007, a place to buy wholesale even if your budget is limited since its prices are very low. Here you will find all kinds of garments and its payment method is very safe.
As it is a page designed for wholesale purchases, shipments are free from purchases of $ 300 with a return policy of 14 days.
16. Maxuce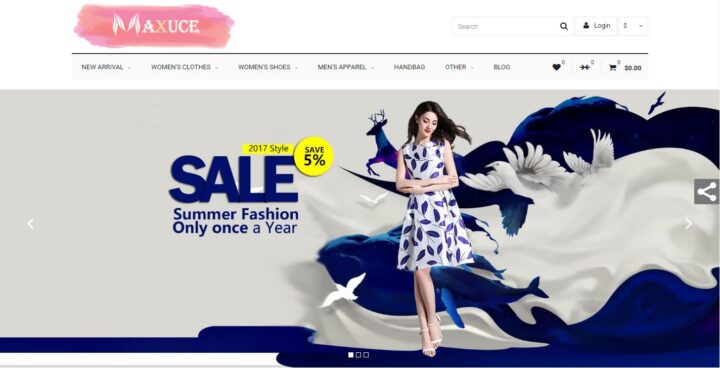 This is another of the best online cheap Chinese clothing stores. It offers high-quality garments and always with a large stock and a variety of sizes. Offers an exclusive section with clothing for less than $ 10.
You can find clothing for women and men, and the shipping price does not exceed $ 2 per 100 g of package.
17. Yaaku Wholesale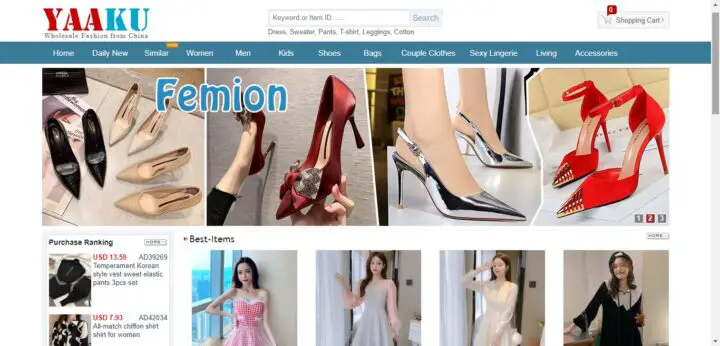 This is another option if you are looking for websites to buy cheap and good quality Chinese clothing. The brand ships to 50 countries between 3 and 7 business days. It also offers different payment methods. On the other hand, this will depend on the distance in which you are in terms of shipping costs.
18. Banggood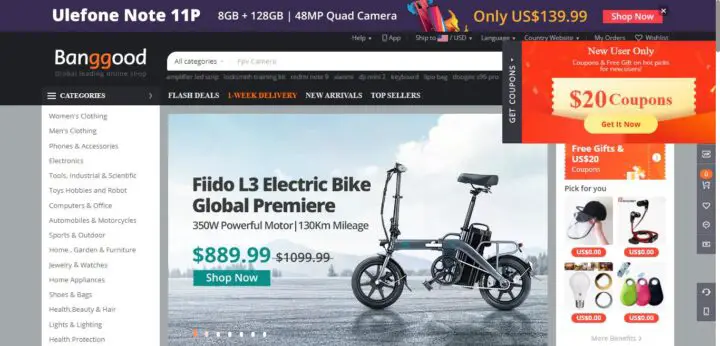 It is a Chinese online store based in Guangzhou, founded in 2006 as a research and software development company. However, over time it evolved as a product retailer globally, first selling technology products, then the offer became more varied. It has more than 200,000 products ranging from clothing, mobile phones, jewelry, cars, and even products for your garden.
19. Emmacloth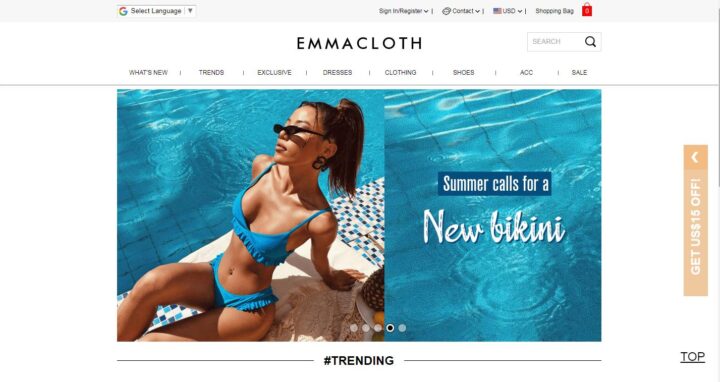 Since 2008, Emmacloth has been in the wardrobes of women worldwide, helping them wear quality garments, very beautiful and the avant-garde since it offers different brands.
The page is intuitive and easy to navigate and offers a guarantee of up to 30 days of return.
How to Find the Best Chinese Clothing Wholesale Website
Many Chinese wholesale sites are reputable. Many of these pages are even recommended by influencers and YouTubers who have done their own research.
However, if you want to know how to find the best Chinese clothing wholesale website by yourself, you can resort to reading the comments and feedback of the users that they leave on different pages. Many of these wholesalers have a physical store, so if you have the opportunity to visit them face to face, you can also do it before making your online purchase.
Another option is to go to the B2B-based directories, which you can find online. These directories are divided into categories, so it will be straightforward to find what you need. Also, you can ask for references from friends or colleagues since many have experience shopping in Chinese online stores.
Searching directly in Google is also a valid option since, as we said before, these wholesalers have a web page. In this way, you can compare prices and products.
Another alternative is to pay attention to the signs on the streets or clothing stores since they usually work with Chinese wholesale websites to provide information.
How to Order Clothes from China
To be able to buy from China, you should take the following steps into account:
Contact suppliers in China either through an online search or at trade shows.
To know the quality of the product, request a sample.
Be clear about both the products you need and the minimum quantity you must buy.
Ask about the payment methods, discounts, shipping price, shipping time, etc.
Look at the return policy.
Ask for Down Payment information.
Final Word: Find the Best Cheap Online Clothing Site?
The websites of the clothing suppliers mentioned in this list are the best known and most reliable. Still, if you want to do your own search, you can apply the tips mentioned here too, because of course there are many more.
Also, you will notice that almost all of these websites have their own mobile applications in case you want to make your purchases from your smartphone.
Start your clothing sales project today!