At My Online Fashion Store, there is absolutely nothing you can't get. It is a wonderful stop for every shopping lover. From quality fashionable merchandise, beauty products to shoes, jewelry, and so much more at affordable prices.
The wholesale business has been booming ever since, and the brand firmly believes in providing the best quality products to its customer. Let's have a deeper look at what My Online Fashion Store has to offer.
What Is My Online Fashion Store?
My Online Fashion Store is an online wholesale and dropshipping website (Shopify App) that comprises fashion items over 5000. These items are easily available for drop shipping from Los Angeles, California.
Choose the clothes you want for your store and upload your favorite products in easy steps.
One of the best reasons why My Online Fashion Store is so popular and reliable is its low prices with amazing quality.
The pricing of every product is set so that you earn maximum profits from your customers. Also, the site has new arrivals every week, which is a bonus.
Who Is the Owner of My Online Fashion Store?
My Online Fashion Store is the sister company of CC Wholesale Clothing. The store is a wholesale fashion destination where you can get everything and anything related to fashion.
My Online Fashion Store was launched in 2009 which started as a single retail store. However, with time, they opened 10 more stores in Los Angles. But in 2010, they decided to close all stores and solely focus on the online wholesale business.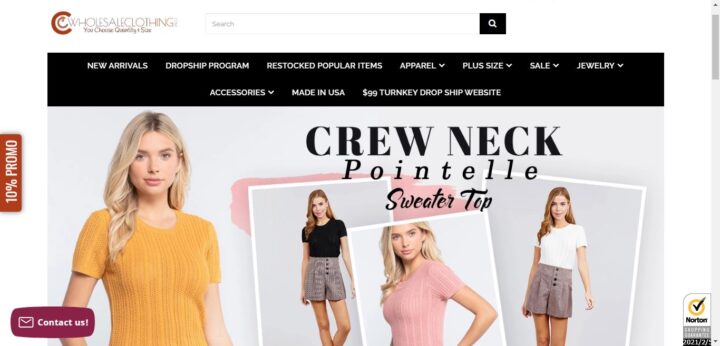 Shipping and Delivery
All products that you purchase are packed and shipped from Los Angeles, California. The order will be blind shipped, which means no information about the company will be included.
Every order you make will be packed, shipped, and delivered within 5-7 business days, counting from the day you placed your order. As soon as your order is shipped, you will receive a confirmation email along with a tracking ID. This way, you can track your parcel anytime.
Also, do make a note of the shipping fee. This is solely dependent on the number of items in your cart.
1 item: $3.75
2-3 items: $4.75
4-5 items: $5.75
6-7 items: $6.75
8-9 items: $7.75
10 or more: $8.75
Return Policy
All drop shipping partners have the Free Returns option. You will first need to fill out a form that you can easily find in the application.
If you need to return any item, you need to do it within 30 days of receiving the product. Once your request is approved, we will send you the free US prepaid label.
Later, you can send it to your customer. All your customer needs to do print and attach the label to return the items.
The customer has a total of 30 days to return products. Once the product is returned, it comes to the warehouse, after which the refund will be sent to your account.
New Arrivals
My Online Fashion Store has been in business for over 15 years, and this is why they exactly know what their customers would love. This is why My Online Fashion Store comes up with 100-200 interesting and trendy styles every week.
With exciting new arrivals every week, you can be sure to provide your customers with the latest fashion in town. Shop for high-quality fashion merchandise, which is one sure way to attract customers. Also, they have a quick delivery time which makes the process all the more interesting.
My Online Fashion Store's Customer Service
The store believes in serving customers and resolving their queries as soon as possible. Hence, please feel free to reach out by email, call or live chat if you have any issues or doubts regarding the dropshipping business aspect. On the other hand, if you cannot reach through at the moment, kindly wait for 12-24 hours within which they will reach out to you.
What I Like About My Online Fashion Store
One of the most mention-worthy aspects of My Online Fashion Store is that they have an amazing team of people who are ever ready to help you out in your journey. The customer service is beyond excellent. Also, the store is known to have fast delivery as well.
What Could Be Better?
The app could have been smoother and easier for beginners to understand the working of the same. For instance, some users complained about not knowing how to add products to their store.