IndiaMART is known to be India's biggest online marketplace that is a platform that connects suppliers and buyers. The brand has a 60% market share of the online B2B classified space.
Alongside, it mainly focuses on providing a medium to SME's which is Small to Medium Enterprises. Also, it caters to individuals and Large Enterprises as well. IndiaMART was founded in 1999, and the main aim of the brand is to make business super simple.
Top 12 Sites Like IndiaMART
1. Tradeindia.com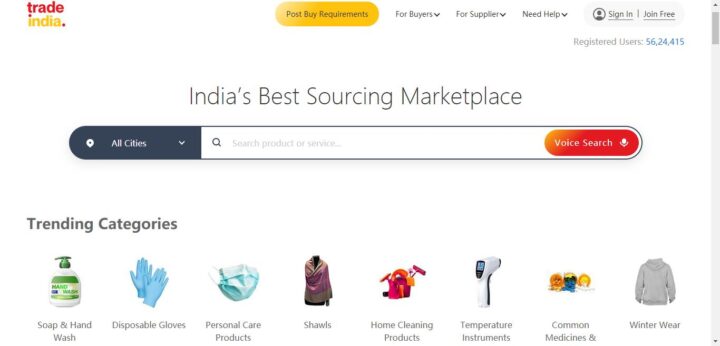 Tradeindia is offering 360¡ã digital solutions that aim for all business-related requirements. It helps its customers with TI Pay, a supplier and buyer payment protection plan supporting online payment for products.
Additionally, it also has TI Lending, which offers collateral, fast and flexible business loans. The brand offers TI Logistics that allows you to ship products with the help of logistics. Finally, they also have Export Bill Discounting, which is a collateral-free payment option exclusively for exporters.
2. Exportersindia.com
Exporters India is India's biggest searchable B2B marketplace. It is a great platform or medium for suppliers and buyers alike. Get products at a great value from unlimited trade online opportunities.
In this platform, you can easily find suppliers in every country like Canada, UAE, USA, Malaysia, Singapore, Australia, and Saudi Arabia. Visit the site now for amazing deals.
3. Jim Trade
This is yet again one of India's leading B2B marketplace, which serves as a platform for suppliers and buyers. It mainly focuses on the Indian market and provides any necessary information to international suppliers.
Jim Trade stays up to date with the latest information on products delivered to suppliers worldwide. It is one of the most preferred spots to source Indian products and gains detailed information.
4. TradeFord
Trade Ford is a global online B2B platform that helps to connect suppliers and buyers. It is a reliable medium and also a rapidly growing one. Trade Ford provides quality information on products, suppliers, exports, wholesalers, and manufacturers.
International suppliers and buyers can find quality trade partners through the platform. At the same time, Trade Ford also has an extensive database that will help you find suppliers and buyers with ease.
5. Made-In-China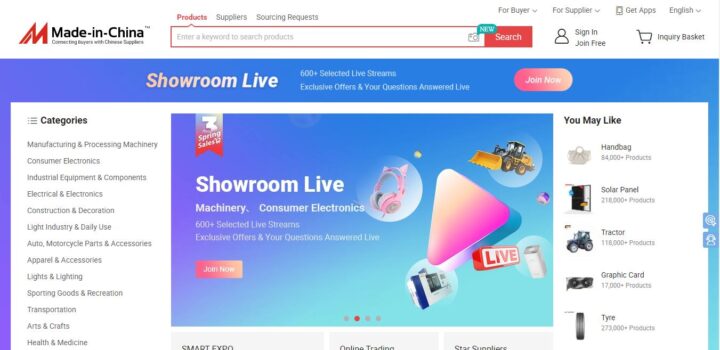 Made-In-China is developed and run by Focus Technology Co. Ltd. It is a leading brand of electronic business in China. Made-In-China is a leading online B2B portal or platform that allows suppliers to find buyers and vice-versa.
They have the latest information and updates on Chinese suppliers and products, which you can obtain easily. The main aim of the store is to promote global trade between Chinese suppliers and worldwide buyers. It also helps suppliers and buyers communicate with each other so that they can get great business.
6. GlobalSources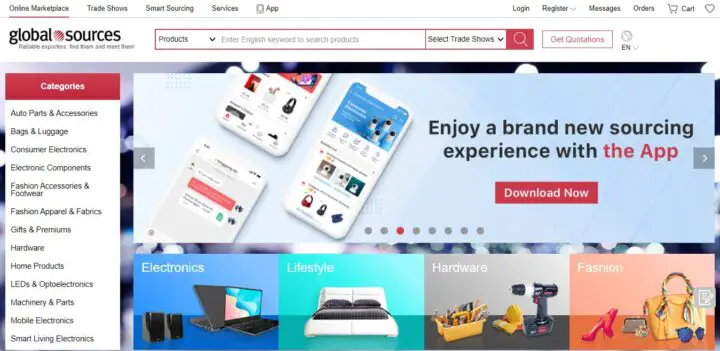 GlobalSources is a leading and recognized B2B medium that has been promoting global trade. The brand has been functional for over 50 years. With such a huge experience, they offer a world-class experience to their users.
The main purpose of GlobalSource is to connect verified suppliers and authentic buyers with smart solutions and various methods like trade shows, magazines, or digital platforms. They also help customers communicate and seize every opportunity for their business.
7. Tradekey.com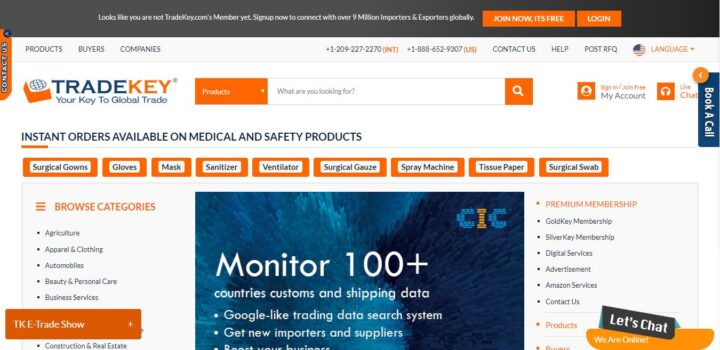 Trade key is another fastest and one of the most leading B2B platforms, beneficial for both suppliers and buyers. It is a great source or medium that helps to connect small to medium businesses for international trading. Get the best business solution for your business and reach new heights.
Earn amazing profits and meet suppliers and buyers on the platform. They offer many premium services, including VIP Membership, B2B Premium Services, Goldkey Membership, Goldkey Plus Membership, and Silverkey Membership.
8. Alibaba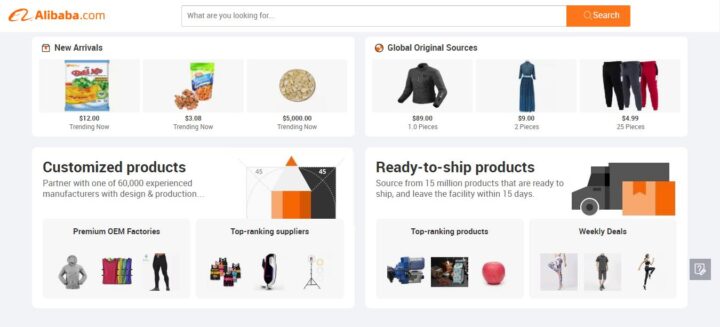 The next wholesale leading marketplace on our list is Alibaba. It is quite a famous or popular platform which many are aware of. You can easily buy products from suppliers all over the world. At the same time, you can also get in touch with buyers from worldwide.
There are many customized products that you can find on Alibaba for great prices. This way you can earn good profits from your customer. The main aim of Alibaba is to make business simpler and hassle-free. Get on Alibaba today.
9. AliExpress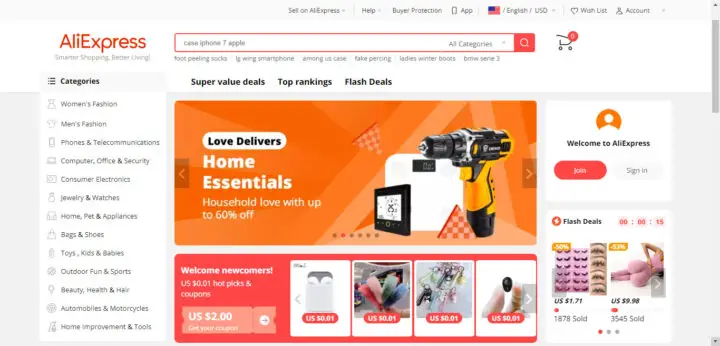 AliExpress is yet another online wholesale B2B where you can find suppliers and buyers from worldwide. Make your business easier with AliExpress. It is a global platform that offers a wide range of consumer products.
Find suppliers and buyers instantly on AliExpress. Also, you can give your business the go-ahead with interesting products for your customers. Select from a huge range of collections for your store. Also, the brand allows you to communicate with buyers and suppliers worldwide.
10. Chinabrands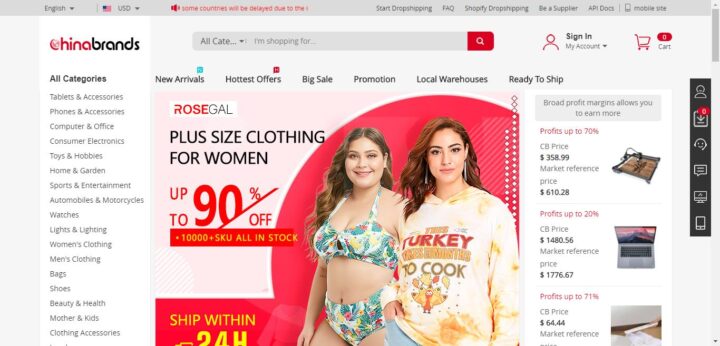 Chinabrands is a dropshipping platform along with one of the best wholesale sellers. You can get a wide range of products from the store and sell them at interesting rates to your customers for profits.
It is known to have a fast 24-hour order delivery which is about 95%. The brand also has 46 warehouses overseas worldwide. Also, the number of registered users on the site is above 100,000. Not to forget, the number of daily orders ranges above 10,000.
11. EC21.com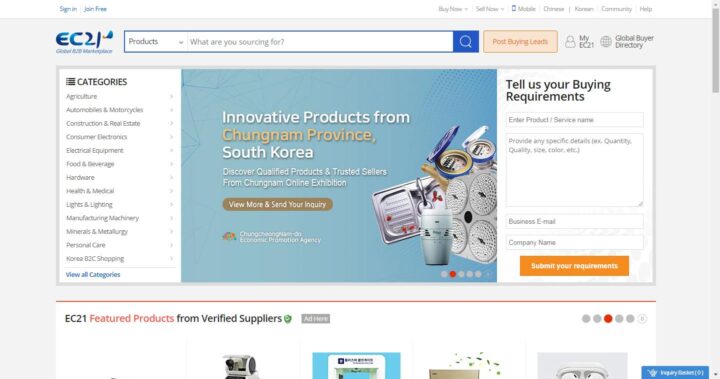 This one is another global online B2B marketplace known for connecting tons of buyers and suppliers worldwide. The brand has been promoting trade opportunities for small businesses to medium-sized businesses.
Today, the company boasts of over 2 million member companies with about 3.5 million buyers. Additionally, the store is a huge platform that has over 7 million products. They offer several services to their customers as well.
12. DHgate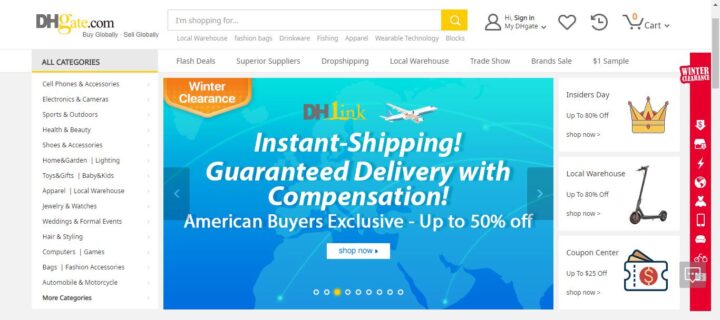 DHgate is a leading and recognized online B2B platform that has brought a huge and drastic change in the global online trade. The brand has been serving people since 2004 and mainly focuses on small to medium-sized enterprises.
Today, the platform boasts of 3 million buyers spread over 230 countries. It also launched its mobile version on 14th April 2011. Experience the best with DHgate and make amazing benefits for your business.