There is a saying that goes, "when you are in doubt, go shopping." But there is a difference between going shopping and doing shopping.
When it comes to doing shopping, there is no other place like Dubai. From luxury goods to local products, wholesale markets in Dubai and UAE offer everything on a plate.
The most stunning part about shopping in these wholesale markets is the value for money. Dubai is called a shopping paradise as it connects entrepreneurs, buyers, and retailers from the eastern and the Western world.
Celebrities from all over the world are fantasized about the fashion shopping wholesale markets that are present in UAE.
These markets are filled with top-class clothing items and other materials that will match the buyer's requirements.
So what are you waiting for? Let us explore the top 8 biggest wholesale destinations in UAE and Dubai in this guide.
Top 8 Best and Biggest Wholesale Markets in Dubai and UAE
1. WemeNA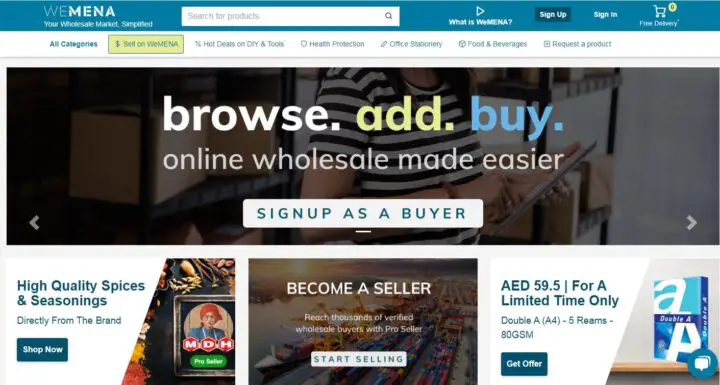 Wemena.com is MENA's largest B2B wholesale market platform that was founded in 2019.  It connects wholesale entrepreneurs, retailers, and buyers with wholesale manufacturers and suppliers.
Buyers and retailers can access many wholesale products of different categories such as health, cleaning, supplies, mobile accessories, computer accessories, electronics, etc., after unlocking this website.
WemeNA offers a wide range of wholesale products at low prices with cash-on-delivery options and super fast delivery within the UAE.
It is the one-stop business solution that manages all wholesale orders, reaches more buyers with the processing badge, accepts payment from all over the country, increases the number of orders with pro-seller marketing, and offers customer support and delivery within the country.
2. Abraa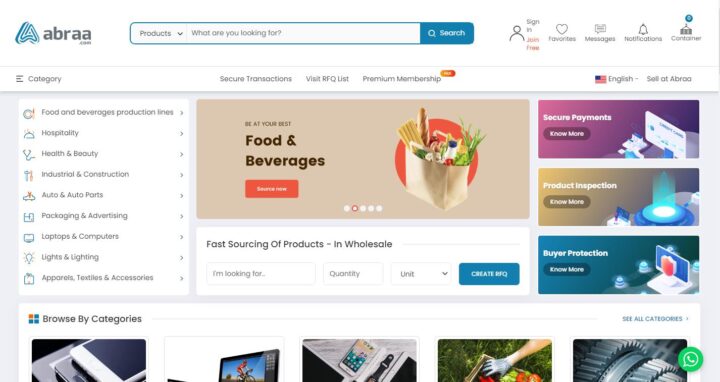 Abraa is a Dubai-based online shopping center operating from 3 different countries with a motto of connecting markets and buyers.
Abraa.com was then known as dubailist.com when it was launched in 2016. Abraa is an Arabic word that means a traditional wooden boat that links people with goods.
Abrar is the most popular wholesale shopping site in the UAE. Abraa.com sells everything from food and beverages to clothes and electronic products, with a delivery fee of around AED 25 for delivery within the UAE.
You will get your product between 3 to 5 working days. You can also choose an express delivery option to get your ordered product the very next day.
Buyers can also avail cash on delivery, credit card, and monthly installment facilities for high range products such as laptops, phones, etc.
3. Dubai Outlet Mall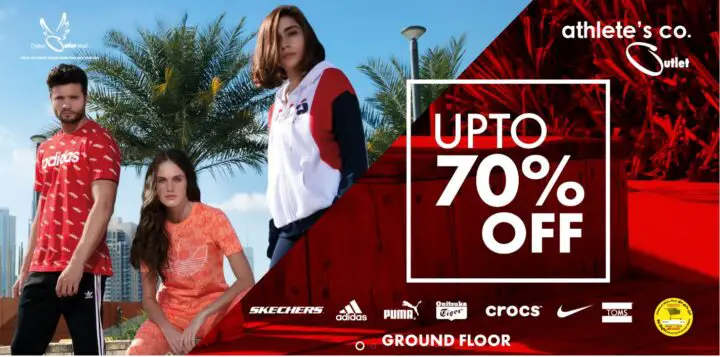 Dubai Outlet Mall is a famous wholesale market for readymade garments in Dubai. Here, stocks are available at low rates with discounts. This is a famous market for both local and outsider wholesale customers.
Dubai Outlet Mall is situated near Dubai Al Ain Road, Route 66, near E611 highway. It covers a large area with parking facilities for the customers. This market remains open for all seven days, from 10 am to 10 pm.
The mall is best for high-quality retailers and exclusive designers to sell their wholesale stocks at low rates and amazing discounts.
High society customers buy these designer clothes at cheap prices in high demand in the local market.
You can find the best brands such as DKNY, Tommy Hilfiger, Burberry, and Diesel. The only disadvantage of this mall is the stock sizes that are only available from small size to large size.
4. Dragon Mart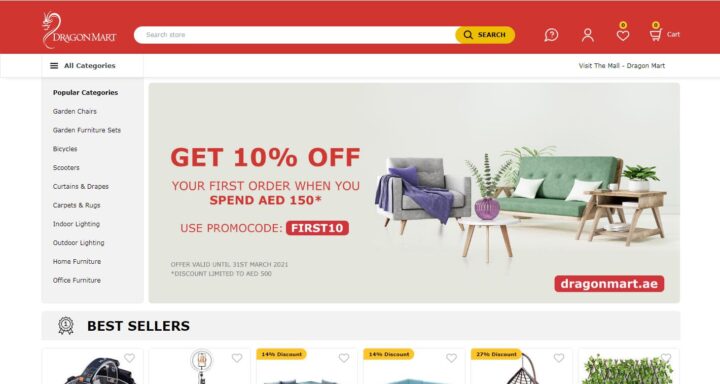 Dragon Mart is the largest wholesale market with 4000+ stores present in Al Awir Road, International city, Dubai.
You can get wholesale china products such as stationeries, toys, clothes, electronics, furniture, fabrics, bags, etc., in every store. It remains open every day from 10 am to 10 pm.
Dragon Mart includes trending outfits for all generations and different sizes. As it's a big market, customers need a lot of time and patience to search for their suitable product before buying it in a huge quantity.
This mart sells cheap casual products that can be used for daily needs with no return policy. Designer clothes are very costly as compared to local products.
5. Naif Souk Market
Naif Souk market is a well-known wholesale garments market consisting of a wide range of conventional and cultural Arabian outfits, jewelry, and other accessories for men and women at wholesale and retail rates.
You will find many garment shops in a sequence, full of authentic Arabian products and other facilities.
Naif Souk market witnesses a high range of products and services like glamorous jewelry, textiles, leathers, electronics, and full-length Arabian costumes with superior quality and wide varieties.
You can visit the market any day at your convenience between 8:30 am to 11:30 pm.
6. Meena Bazaar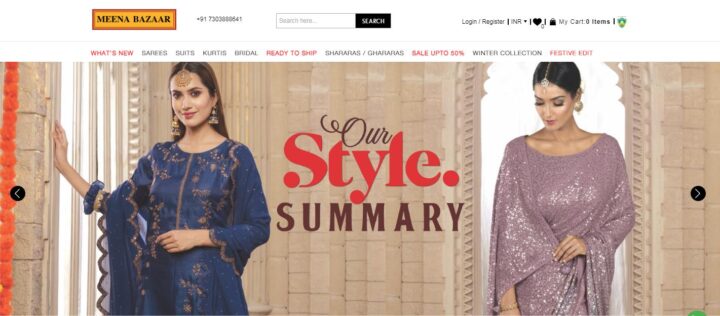 Meena Bazaar is the only popular market in Dubai known for selling Indian and Pakistani clothes, products, and services at retail and wholesale rates.
The market's name is named after the famous Indian market Meena Bazaar which is situated in Delhi.
Meena Bazaar is adorned with many jewelry shops selling gold and diamonds at an affordable price and amazing discounts. This market contains several traditional shops full of Indian, Pakistani, and Afghanistani clothes at cheap rates.
However, You can only avail yourself wholesale options for clothes and other products, not diamond and gold jewelry.
Besides shopping, tourist and local customers can enjoy meals at Indian and Pakistani cafes and restaurants in the Meena Bazaar's streets.
Meena bazaar is situated near Khalid bin Al Waleed Street, Bur Dubai. It is opened four days a week (Saturday to Thursday) from 8:00 am to 12 am.
7. Deira Old Souq
Deira Old Souq Dubai wholesale market is situated near Al Fahidi Metro station, Bur Dubai. This market has many Pakistani, Arabian, Afghani, and Indian tailors who make beautiful garments and sell them at wholesale rates and amazing discounts.
Deira Old Souq has a wide variety of exclusive fabrics, traditional and trendy wears, shoes antique jewelry of the best quality and bargaining value. There is a huge scope of getting Asian products at cheap rates.
This market is opened four days a week (Saturday to Thursday) from 10 am to 10 pm.
8. Al Karama
Al Karama, also called Karama, is a different mart from other malls of Dubai. The mart contains amazing collections of toys, shoes, bags, clothes, watches, and order products at a wholesale rate.
Before buying any product from this market, check its authenticity as you may find the original and fake items of the same product. You can walk around and select your favorite item before buying and can openly bargain designer outfits.
Karama is present in 18B Street near the famous fish market of Dubai. It remains open every day from 8 am to 10 pm.
Why Should You Buy Wholesale Products from Dubai?
Dubai and UAE are also known as cities of malls. If you have ever visited this shopping heaven, you will not come back empty-handed for sure. You will get your favorite option from the souks and shopping malls of Dubai.
You can take a look at Dubai's famous products such as gold and diamond jewelry, precious and artificial stones, traditional Arab shoes and clothes, Arabic lanterns, lamps, attars, species, coffee, dates; electronic items; rugs and carpets from Persia; pashmina shawls; and Oudh and bakhoor on a reasonable budget.
In these markets, customers will get branded and local products at a very low price. Customers from all across the country shop here to feel the antique touch with modern designs at a very affordable price.
These markets are suitable for those who have less money to spend and those who have a lot of money to buy wholesale products.
Dubai is a market paradise for wholesalers, retailers, and buyers to introduce their products and services to the customers with affordable options like no other place in the world.
Risk of Wholesaling Product from Dubai
The markets in Dubai are for all. It doesn't distinguish between rich or poor customers or retailers. However, these wholesale markets have drawbacks too.
You can get designs or products as per their choice, but there are possibilities of getting a fake product in place of the original brand.
Dubai markets are full of summer collection clothes as Dubai is situated in a warm region and the clothes are convenient for native buyers and tourists who are living in warm regions.
However, you may find limited winter collection clothes with limited size and higher price range.
The wholesale garment markets are full of clothes of different traditions and different people of mixed culture. So you may roam around a lot to get clothes as per your choice.
Final Words
UAE is known as a merchants' city because of these markets that had played a vital role in connecting the gap between eastern and western countries.
These online and offline markets are witnessing the diverse culture of Dubai, where retailers from all over the world sell products of their own country at affordable prices and discounts.
They provide a great opportunity for both retailers and consumers to sell high-quality trending products at a bargaining rate.
Dubai markets not only offer a genuine shopping experience but also are a place for hangouts, outside dining, fun, and entertainment.
If you want to enjoy the best shopping experience, then you must visit the above online and offline wholesale markets to get a cheap shopping experience that you have never seen before.