India has ample wholesale markets to cater to the clothing needs of its high population. After all, it is the second-most populous country. Dresses of all types are ethnic to modern or formal to casual, and you get to find a wide variety of clothes.
Clothes are available as unstitched cloth bundles which can be bought and made into your choice of design or readymade garments suitable for selling directly.
These online markets that provide wholesale prices are situated in India's major cities such as Mumbai, Surat, Delhi, etc. The best thing about it is you have something for everyone.
Meaning there are a variety of fabrics, qualities, and whatnot in cheapest to costliest price ranges. Retailers will benefit hugely as the retail prices are way higher than wholesale prices.
Without a doubt, the fabric business is profitable when you master the knack of shopping at these wholesale online shops.
These are the best 11 wholesale online clothing websites in India where you can find apparel at a very low cost when bought in high quantity.
Top 11 Best India Wholesale Online Clothing Websites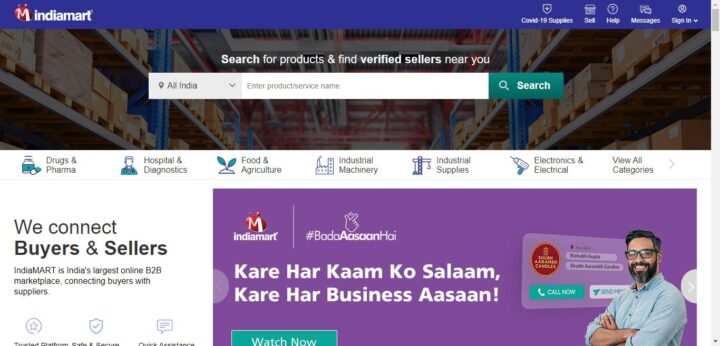 IndiaMart is a B2B platform that showcases the largest data of manufacturers and suppliers from all over India. Though this website contains all kinds of things for sale and clothes are just one of them, do not underestimate their directory in this section.
It is as huge as it can be as most businesses do not have their own website and do online business through IndiaMart. Hence you can even find here the suppliers who you cannot find elsewhere on the internet.
Its 25 years of data accumulation is now an enormous record of almost all wholesale businesses in India. Needless to say, it fulfills all your garment requirements, from handkerchiefs to designer clothes.
If you are not able to locate something you need on IndiaMart, you can put up a request, and you will receive a list of manufacturers with details like the address and phone numbers from the IndiaMart team as email or SMS, depending on what you provided while registering.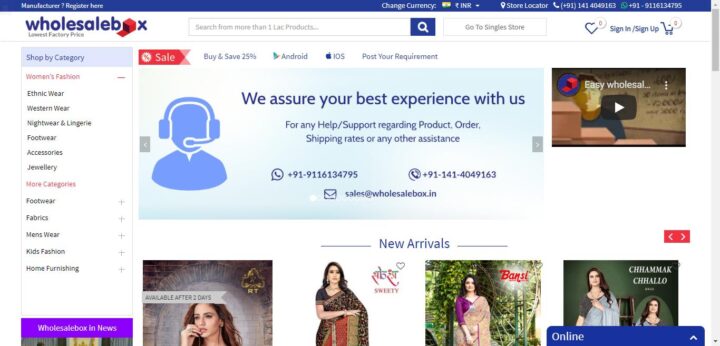 Wholesale box has its warehouses in prominent cities such as Surat, Hyderabad, and Kolkata. They offer western wear, ethnic wear, footwear, lingerie, fabric, men's wear, kids' wear, and jewelry.
These wholesale distributors are confident that you will reduce your sourcing costs by 30% when you buy from them compared to your previous distributors.
Meaning they offer very competitive prices in the B2B eCommerce world and are among the best sources for retailers to gain huge profits.
If you sell few other things besides clothes, you will be happy to know they list various products where you can find several other items for you to buy for retail selling.
Their website lists all the requirements clearly, such as prices, minimum order quality, and sizes, making your work easier.
As they accept payment in various modes, you can choose your convenient method of payment.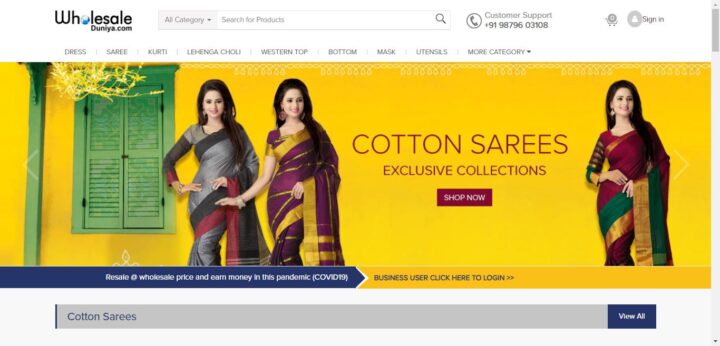 WholesaleDuniya.com sells fashionable women's wear and has a catalog of designs to pick from. The website displays retail prices, and you need to send an inquiry for wholesale prices.
All kinds of dresses such as tops, Kurtis, bottoms, leggings, sarees, and dress materials are found here. Their shipping is quick, and easy return policies are great plus points of this online wholesale seller.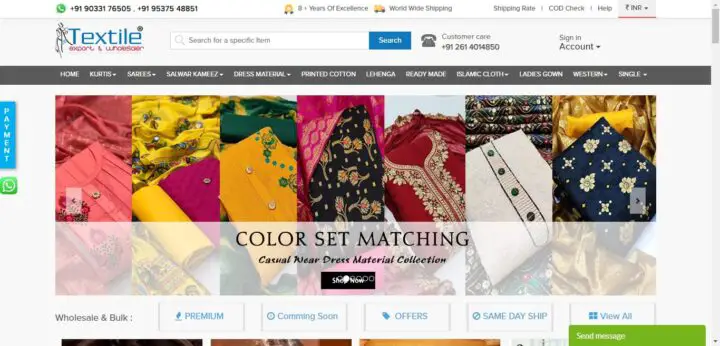 This Surat-based wholesaler offers the best wholesale prices as the city they are based in is also known as the textile capital of India.
Excellent quality and huge variety are the other mention-worthy potentials of this seller. Though sarees are their main products, they also offer other clothes such as daily wear and western clothes.
Unlike other websites that sell different products, this seller sells only cloth-based products. You get to buy various readymade garments such as wedding lehengas, Salwar kameez, designer dresses, and sarees.
They ship your products within 4-5 days. Multiple payment options make your job easier. Find them here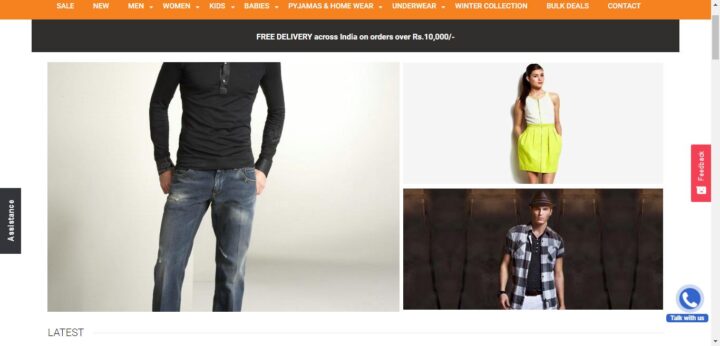 You get to find a large collection of clothing for all children, women, and men on this website. This South Indian based website, Tamil Nadu, to be precise, is well equipped in men's clothing collection.
You get to see very few sites featuring men's garments and if you are looking for one, here ends your search.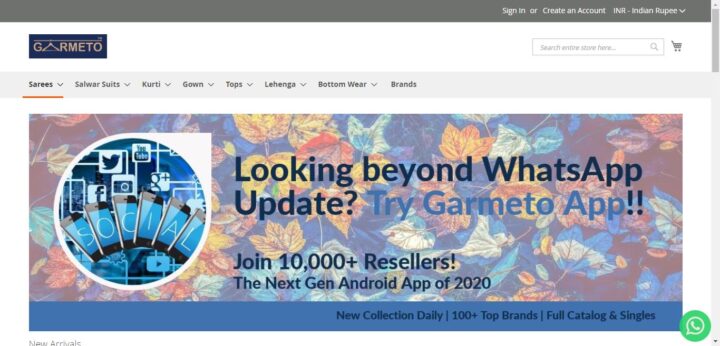 They are also based in Surat and sell only clothes. Their novel saree designs and the collection of ethnic wear is commendable. The budget-friendly prices are another reason for this wholesaler making it into this list.
Secure payment and timely communication using their contact number options make doing business with them a breeze.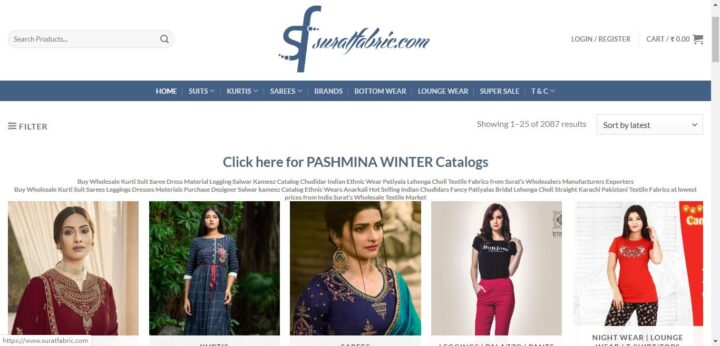 The name itself gives its location. Yes, it is Surat-based, and they are in business for 25 years with extensive knowledge of the wholesale fabric business.
You can buy part wear suits, bridal lehengas, casual dresses, designer wear and silk sarees from them. They ship to all over the world. The minimum order quantity is 10 pieces per dress.
They have a high reputation as several boutiques, resellers, and retailers all over India as most of them depend on this wholesaler.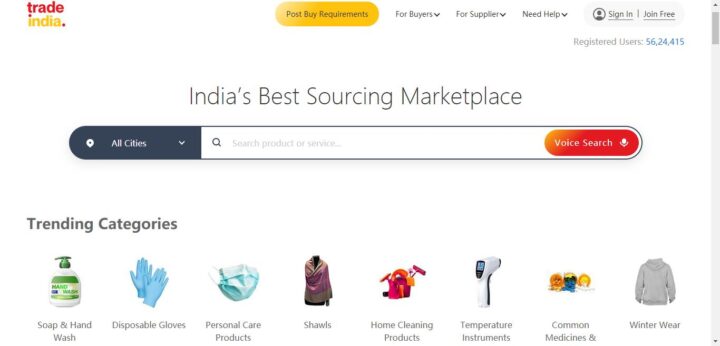 This B2B platform works similar to IndiaMart and helps sellers and buyers to get products at the lowest possible rates.
They supply anywhere in the world and sell a variety of items. Registration is free for both buyers and sellers.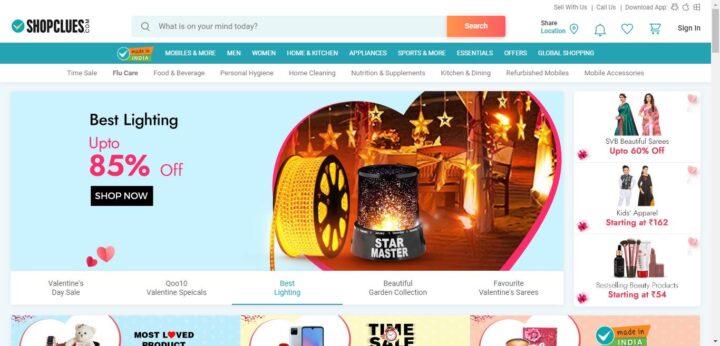 A vast collection of over 2 crore items in various categories are available on Shopclues. From Fashion wear to electronics, everything is available at cheap prices in retail on this website.
Since its prices are comparable to wholesalers, this website is listed here. In other words, it is a wholesale priced shopping stop without the need to buy in bulk.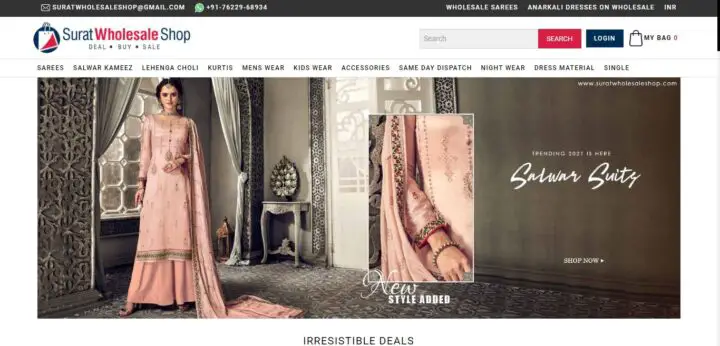 SuratWholesaleShop supplies top quality ethnic Indian wear at wholesale price. This Surat-based clothing supplier has an international clientele and caters to many countries such as Canada, Russia, China, Australia, UK, the USA, Germany, Malaysia, Fiji, Singapore, South Africa, Japan, Sri Lanka, Pakistan, and so on.
Their catalog consists of a wide range of models for women and kids.
Also, a custom stitching facility is available with them, and you can order clothes to your desired measurements.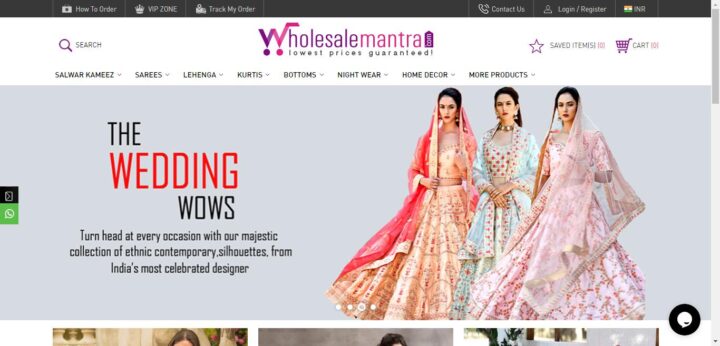 Wholesale Mantra sells Kurtis, sarees, lehengas, shalwar Kameez, bottoms, and other items. This Indian based wholesale marketer has their product range at affordable prices for Indian ethnic wear.
They also provide custom tailoring to suit your needs.
You can get the goods shipped internationally to Canada, the USA, UK, Germany, Australia, and other countries. Even the international orders are shipped in 4-5 days.
Where Can I Wholesale Boutique Clothing in India?
Boutiques in India are renowned for their fashion apparel, and the designer clothes makers here source their material from wholesalers.
In India, there are several wholesalers with boutique quality material for all ranges. Buying in bulk from Surat, Mumbai, Kolkata will allow you to cut your raw material costs.
If you cannot visit the shops directly, you can order online by checking their catalog. Once you get in touch with them, they will send you more latest designs that are yet to be released into the market, which allows you to be ahead in the fashion world.
Where to Buy Affordable Ready-Made Clothes in India?
When it comes to the readymade, people look for the brand labels, and you can find excellent branded garments in Mumbai.
No wonder it is called the fashion capital of India due to the variety of new designs available here from time to time.
Coming to wholesalers, you find several of them, and each of them provides you with highly varied designs. You should visit Crawford Market, Bhuleshwar market, Mangaldas market, and the old Hanuman lane.
Where to Buy Dress Material in Bulk at a Wholesale Price?
There are several textile manufacturing units in Surat, and hence you get dress materials for dirt cheap prices here when you buy in bulk. Check out the Adarsh market, JJ AC Textile Market, Turkey cloth market, and Bombay market.
Where Can I Find Some Other High-Quality India Wholesale Supplier?
New Delhi is famous for traditional clothes of high quality. The Sarojini Nagar Market and Gandhi Nagar Market are the most renowned places to find quality clothing.
Also, check out the Lajpat Nagar Market, Karol Bagh market, and Chandini Chowk market while you are there.
What Are the Best Private Label Clothing Manufacturers in India?
Manufacturers in India are also willing to manufacture private label clothing exclusively for your brand if you arrange with them. These clothes are of higher quality and not usually found in the wholesale market.
They even cater to foreign clients as they are capable of manufacturing amazing pieces. You can check www.billoomifashion.com, www.riyafashions.com, and www.purnimaexports.com to see their work and to contact them.
Which Are the Best Wholesale Clothes Markets in India?
Shankar Market
Central Market
Mohan Singh palace
Bhuleshwar Market
Heera Panna
Hill Road
Natraj market
Lokhandwala market
Hindmata market
Ambaji Market
Bombay market
Adarsh Market
Is Indiamart Only for Wholesale?
No, Indiamart is not only for wholesale. There are manufacturers, wholesalers, and retailers in IndiaMart, which means that even if you don't have a company, you can still buy their products.