If you desire and are willing to put in efforts reselling for profit is a thriving business. The main advantage of it is you need not invest high amounts and can start small.
It can either be your primary business or a side hustle. Above all, it is an interesting and creative way of making money.
Visit yard sales and garage sales, go through thrift sales and keep yourself informed of every clearance sale.
Before you buy everything and end up with loads of items without any sales, make sure you have chosen the right niche that gets your things moving and profits pouring in.
This article will provide comprehensive guidance on the best things to resell for great profit, which will help you earn extra income.
What to Consider When Buying Cheap Things and Sell for High Profit?
The success of reselling business mostly depends on selecting the correct product niche. Ecommerce sellers keep updating their goods according to the trends, yet they are clueless on where to invest for sure shot money-making.
I might not be able to pinpoint the right items for you, but I can surely lead you in the direction which helps you make a more educated decision for increasing your profits. Initially, let us look at the big picture of identifying profitable things.
Bestsellers
The products that sell the most are usually found under this category on the most prominent online platforms.
You can check out the list from the websites of Amazon, AliExpress, eBay, and similar places to start with.
As these goods already have high demand, they have a ready market, making them quick selling goods. However, choose items based on your shop preferences.
Easy Shipping
Shipping is a major part of online selling. It involves both paperwork and proper packing and damaged goods, which is another whole new story with added loss.
So, light items that are not prone to breakage and fall well within the prescribed range of packaging guidelines for shipping are preferable.
Seasonal Goods
The window to sell seasonal goods is small when compared to all-time selling goods. It requires stocking up well before the season starts and clearing your sales before the season runs out.
If you cannot sell enough and the season is gone, you end up with unsold goods and very little to no profit. So, avoiding them is a better option.
These are the three main things to keep in mind before checking your items to buy for selling them for gain. Though there are several other factors, let me go step by step that gives you clear guidance.
Some goods are ever selling due to the nature of their use or never-ending demand.
Check out why they are always sold out and how you can benefit from this information below.
What Are Some Evergreen Products That You Can Resell for High Profit?
Homeware
A home is a cozy place where everyone loves to return to after a day's hard work. You like to keep it equipped and beautiful. For each one of them, it means something, and you always tend to improve it in some way or another.
Hence the essential homewares such as clocks, utensils, kitchenware, cooking tools, mirrors, and such items are always in demand.
Hobbies and Leisure
Hobby items and sports-related items cost less and sell for more, giving you high margins of profit. These goods can fetch you a good amount when you choose suitable goods.
The items such as toys, game consoles, sports tools, hobby items, and so on will have excellent demand as an increasing number of people are showing interest in these activities.
Fashion trends
Fashion related items are all-time hot selling. From accessories to clothes, you have a wide range to choose from depending on your target area and the audience you wish to target.
They can be anything like dresses, shoes, bottoms, tops, scarves, belts, and many such items.
Kids items
Similarly, kid's products are also fast selling. Today, kids are the shopping masters rather than their parents.
Kid's clothing, toys, playing items, and so on available online with an extensive range are also becoming convenient for parents to shop. Hence these items are also at a chance of enormous gains.
Technology Products
Tech-savvy related products such as Bluetooth, keyboards, phone accessories, earphones, and so on are very much necessary for most people.
Especially younger generation is crazy about these products and is willing to spend on them creating a good market for these goods.
Now that you have a broad idea, let us further narrow it down to single items, which is where it gets more interesting.
Top 18 Best Things to Buy and Sell High
As you were waiting eagerly for this part, i.e., the most popular items list, which, when followed carefully, will allow you to understand what to buy and sell for profitably running your business. Let us get right to it.
Video Game Consoles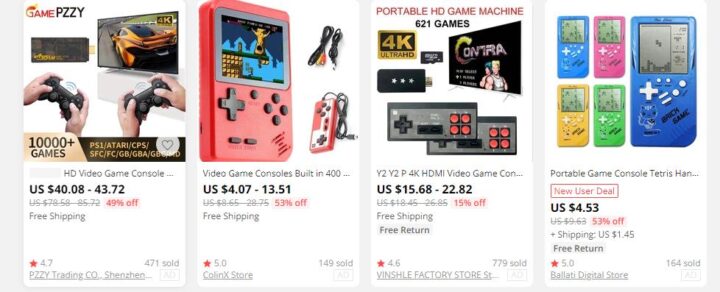 Video games have a huge market in the USA alone with approximately 211 million players, and you are still left with other major regions such as Asia, Europe, and Africa.
People never outgrow video games, especially for the older games from the 70s to 90s, are highly popular and are frequently on the best selling list. Even the current video games such as NES, Atari, and SNES have a similar scope.
There is an all-around scope meaning you can look for a wide range of games from the past few decades to the current in this section.
If you believe that only kids play these games, you will be surprised to know that even adults enjoy them equally. That is one of the reasons for the high sale of this product.
Most children who grew up playing video games are still gaming enthusiasts even after they grew up. They keep looking out for games they have not tried yet or the old games they have been trying to get their hands on.
Used gaming consoles are found on thrift shops where you can buy them at low cost and sell them for higher profits on Amazon, eBay, Etsy, AliExpress, Facebook for local deals, and similar sites.
Drone and Accessories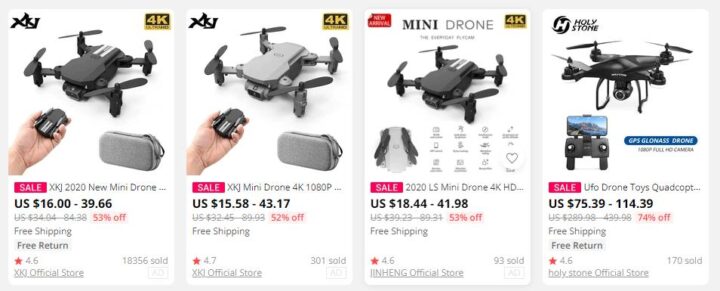 With the advent of drones, several industries began using them for various jobs, from hazardous to high zones.
Since there are numerous applications in agriculture, photography, and many other similar sectors, you have a broad scope. Also, it is an emerging product meaning it has a lot more future potential to it.
Along with the device, there are other needs related to the drone which you can fulfill, giving you a range of products to market.
You can sell batteries, landing pads, propellers, bags, landing pads, and so on, which are readily available on AliExpress and such websites for buyers. You can earn returns by selling them on Amazon and eBay sites.
Toys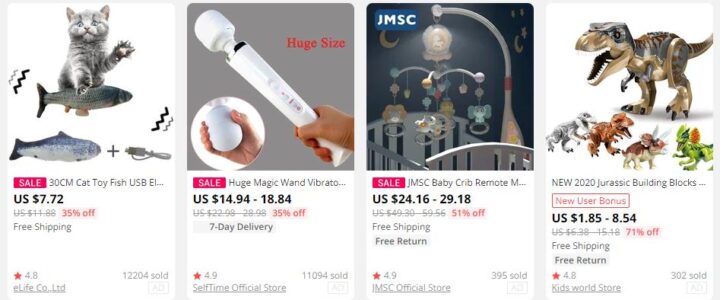 It is estimated that the toy industries have an economic impact of about $97 billion in the USA alone. This shows us how big and impactful this industry is, and even the bestseller lists on prominent online sites confirm this.
When you check the best selling product in an overall view, you will find few toys in them. Mostly, LEGO, race cars, kitchenware, music instruments are some of them you will see in that list.
Parents invest a lot in their children's healthy growth and are willing to provide them with all necessary aids to equip them with the best possibilities. Offline stores can hold limited toys, and they need to drive and shop at particular timings, which requires planning.
But online shopping eliminates the driving, and you can shop even at midnight conveniently from home.
Finally, toys arriving at their doorstep to brighten up their little ones are today's parent's new agenda. Well, do you see the doors wide open here with tremendous scope for selling? So, do I.
You can look for toys at garage sales, thrift stores, and clearance sales online at eBay and offline in places such as Walmart or Target. Sell them on eBay or Amazon.
Oil Diffuser


Thinking of making money fast than an oil diffuser is a quick-moving and highly sold product in the homeware section. All you need to do is make sure it is nice looking, functional, and easily cleanable.
You can opt for a basic diffuser to multi-functional ones that also act as air fresheners, humidifiers, or a nightlight. It can be sold quickly on eBay, Facebook, Amazon, etc.
Sunglasses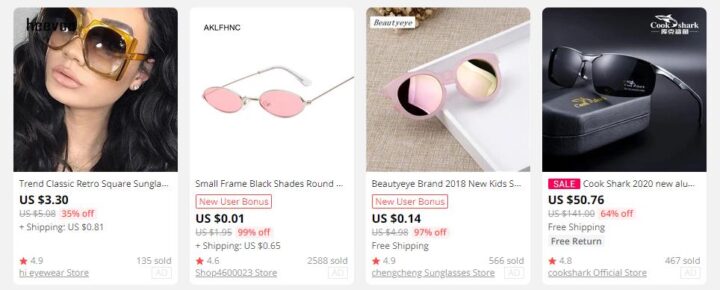 Sunglasses are one of the few fashion accessories which are popular with both men and women. These come in several varieties, from stylish to classy, and can be either gender-specific or unisex.
The current trending types are semi-rimless, oval, shield, cat eye, and pilot.
As of now, they are hot selling and are fetching considerable amounts. Find them on AliExpress and Amazon, which you can again sell at eBay and Amazon.
Makeup Mirror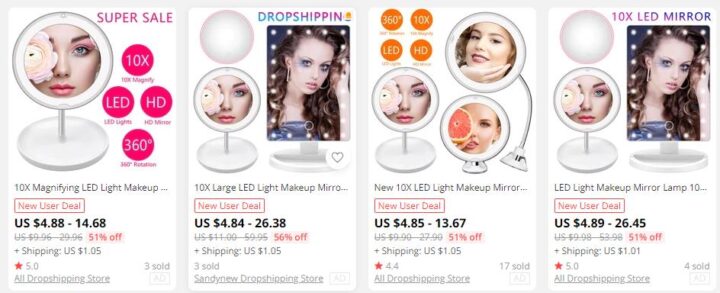 LED makeup mirrors are yearned by almost one home these days. These are very handy for women to put up makeup and for men who groom themselves exceptionally well.
Apart from makeup, these mirrors are useful in several other ways you discover once you start using them.
Well, a proper mirror with the perfect lighting is a hot combo for makeup requirements.
It is no wonder it is vanishing as soon as it is stocked and is available with a good profit margin. What else do you need? You can sell them on eBay, Instagram, and Locally also.
Fitness Equipment


Sports kits and apparel are gaining importance recently as many are becoming health conscious and are aiming to be fit. The growth rate from the past 5 years and the next two years is predicted at a rate of 7.1%, meaning it still has a highly positive scope.
Items such as football, winter sports, fitness, tennis, watersports, bikes, and outdoor games have a steady upward trend in their sales.
However, new goods are costly and not affordable for everyone. So, there is a good market for sports equipment, even for secondhand goods.
Gently used equipment is sure to make profits for you if you can acquire decent looking items in good condition from thrift markets and sell them online for higher profits.
You can sell them on Amazon, Instagram, and Facebook, especially if you can join few sport enthusiast groups to sell more efficiently.
Maxi Dresses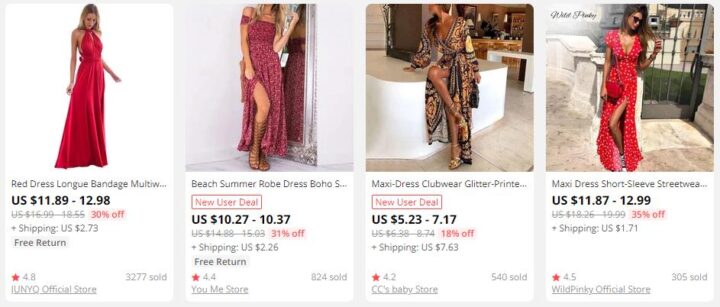 Maxi dresses are stylish and have an increased selling scope during summer. Many women prefer them for the comfort and style they offer.
Also, maternity clothing and plus-sized dresses category in maxi dresses are hot selling as they are hard to find offline. Above all, the more fashionable the open secret is the more possibility of getting higher profit.
You need to hit the clearance sales racks and thrift stores where you can find branded dresses.
When you get dresses with their tag intact, it will be a jackpot as you can buy them for dirt cheap and sell them for a relatively larger amount.
It does take time to get your hands on one such dress, but it will be worthwhile when you do get it. Amazon, Instagram, and Facebook are good places to sell these dresses.
Jewelry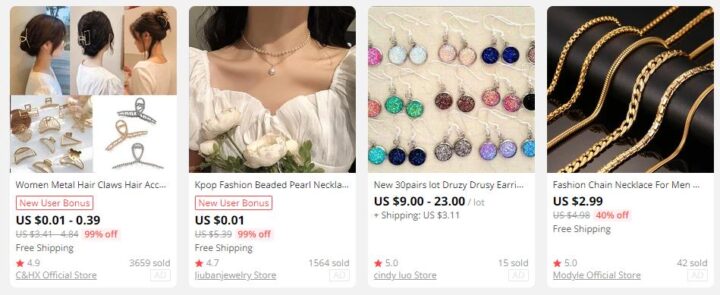 Minimalism is the new mantra for most fashionistas, and less is more these days. This movement is seen even in jewelry, and a brand new trend of minimalist jewelry has emerged.
Some call it vogue, and some call it simple. Whatever the name they give it, these are selling like hotcakes.
You already have potential customers as they are vastly popular. All you need to do is find your elegant designs to blow their mind off. Popular online sites such as Amazon are good to start with.
Phone Lenses


From when mobile cameras became common, everyone is exploring the potential photography talent in them.
Few are also using them as a means of livelihood or to provide entertainment through Snapchat, Instagram, and similar social media sites.
However, phones are not designed to produce such high quality, so they rely on an extra phone lens to capture crystal clear shots with excellent quality.
As many people find their way towards this trend, the need for photo lenses also increased proportionally.
Olloclip lens and Moment lens are the highest selling lenses currently and are available at AliExpress. You can sell them on Amazon or eBay and accumulate good revenue.
Books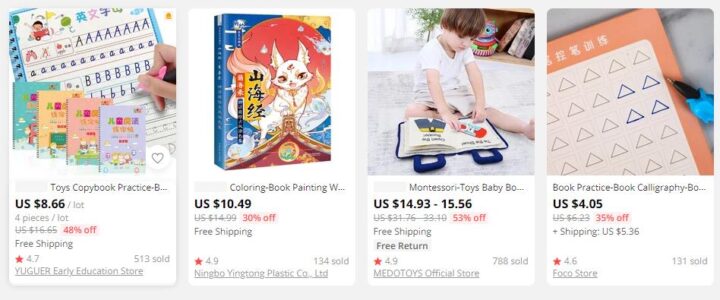 When you say books and online selling, you connect to Amazon instantly as that is how this eCommerce started and its business and grew into a massive seller.
So, books are proven to be most profitable with a live example. They are also simple in terms of weight, shape, and fragility. Hence it is an ideal item with a high return value with lesser effort.
You can find plenty of books in numerous places such as garage sales, library sales, department stores, clearance sections, and thrift stores.
If lucky enough, you might stumble on collection editions that fetch a lot more in value. If put together as a set, the first editions and vintage novels can earn you a fortune.
Make sure you list your books for sale at Cash4Books, BookScouter, eBay, and Amazon and keep selling them for profits.
Furniture


The solid wood tables and chairs of good quality have a high resale value. As the modern furniture is hollow or does not use high-quality wood material, these older wood furniture with extreme strength and durability is gaining importance.
Solid wood items attract good price tags since there are always people willing to invest in them. Thrift stores are good places to look for this furniture, but they come shabby and dull looking.
The goodness of wood is you can sand it down, restain and make them look new. After this brief remake, the furniture will commandeer a higher price when you resell.
Picture Frames

Photo frames have always been the decoration of many people where they adorn their rooms or hallway with embellished frames. Also, they tend to change or these periodically necessitating the purchase of them.
Usually, people look for large embellished frames. The older frames with an antique look give you a higher earning scope.
Just make sure that they are in good condition, or if a little touch up makes them look better, you can buy them.
If these frames come with an excellent photograph, they will increase the value of the frame. However, if you plan to ship them, size may be a concern, so keep that in mind.
Electronics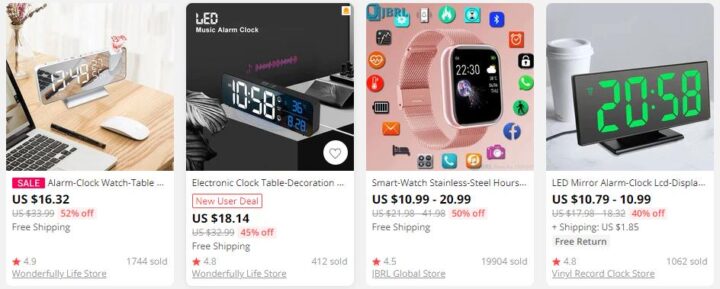 We have already discussed the video game consoles separately due to their high scope, even though they are a subcategory of electronics.
The other electronic items in demand are cameras, CD players, VHS players, DVD players, and stereos.
Modern electronics and old devices such as portable CD players and classic walkmans are also the most selling items at a really good price.
Cookware and Bakeware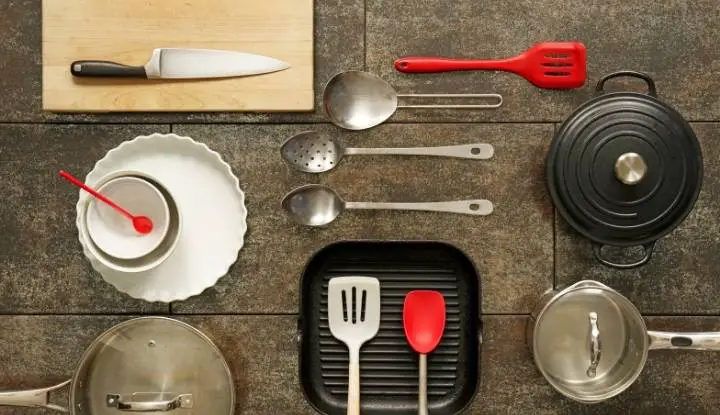 Vintage Pyrex bakeware and cookware are fast selling items that you can find at low prices in local thrift stores. You can buy them at pretty low prices and sell them at excellent prices online.
They need little looking and need time and patience, but you need not wait to sell them as they readily have people waiting to buy them.
Watches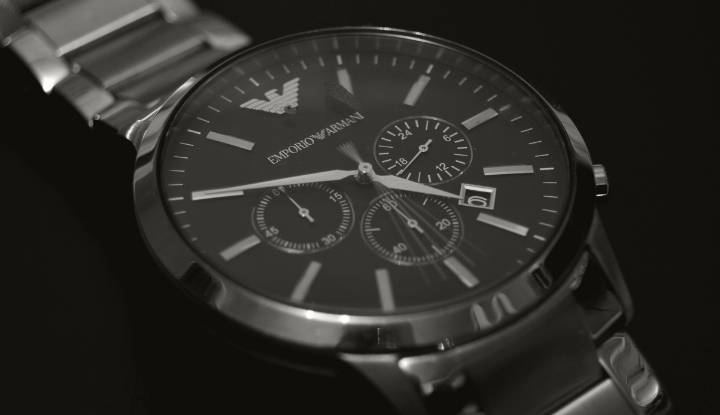 Revamping old watches found cheaply and selling them online at good prices can fetch you some extra cash. It can be as simple as polishing them or adding a new battery. However, it is important to check if it is working before you buy them.
Antique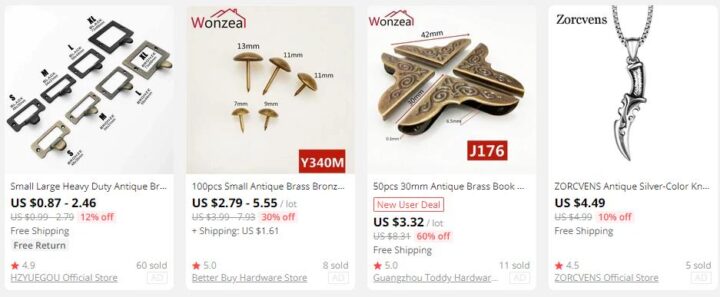 Antiques are nostalgic and take people back to the good old times. The older they are, the more mesmerizing they seem and hence highly appealing as they are so attractive that the demand for them is big.
Since they are not made today, these items cannot be replenished and hence the higher demand leading to decent amounts when you sell. Look around the thrift sales and garage sales to get hold of such items.
Sewing Patterns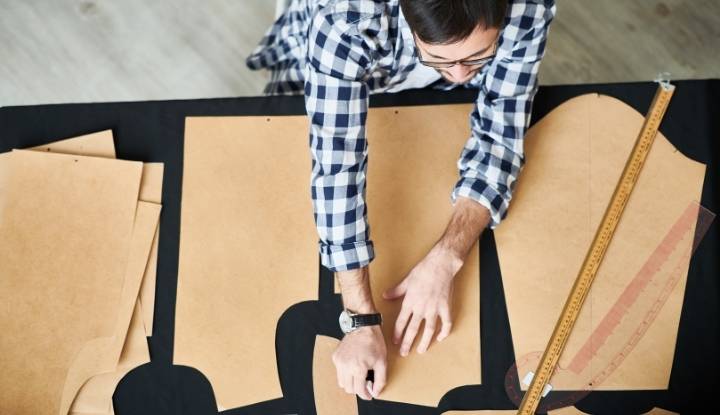 Sewing patterns were the sole source of designing dresses way back a few decades ago. You can find a handful of these vintage sewing patterns in yard sales at a very inexpensive amount.
If they are at least 20 years old, they can sell for five times higher than the price you bought them.
You can buy the above items and sell them for profits, which allows gaining some income. Especially vintage glassware, electronics, and similar items, when sold on eBay, can mint some money for you.
Where Can You Buy Cheap Products and Sell High for Great Profits?
Even though you are equipped with the information of which items to buy, you still need to know where to buy them. Check out the below useful list to cover all possible sources to find items for a lower price.
Craigslist: This website has a free section where you can find both cheap and also free items if you get lucky. Sometimes, people do not want to sell things, and they give them away for free.
You can find a wide variety of items you need to check thoroughly and pick the highest selling and low priced items to maximize your profits.
Wholesale: Dollardays sells items in bulk, which fetch higher prices when sold individually.
Amazon: Amazon sellers sometimes sell at competitive prices, which you can buy and resell.
Similarly, flea markets, Sales, Closing businesses, Thrift stores, Garage sales, Online arbitrage, deep discount clearance sales, and even your basement might contain some interesting goods, which are all good places to look out for low-cost items to flip for profit.
Tips for Buying and Flipping Products
The groundwork is ready, but still, there will be few things to consider before you practically start doing it. I am providing them below, check and follow to avoid pitfalls.
Check-in multiple sources such as other stores and online in other platforms before buying something for the best price.
If you are in a dilemma of deciding how much an item can sell, eBay is the best place to check.
When buying secondhand items thoroughly check for physical damage and working conditions of items to estimate their worth.
Fixing old items and making their appearance or working better will fetch more money.
Keep yourself updated with clearance sale details of high-end stores to grab quality items of high value at lower prices.
Shipping costs have a direct share in your profits, so factor them in your price and opt for lightweight items with ideal dimensions that do not increase your shipping costs.
Who knows? It might start as a few dollars and can turn into your all-time business. Good research and grabbing the right things will get you way ahead in money-making.
Where Can You Sell Your Things Online for Great Profits?
There are offline markets, several online websites that sell all types of items, and a few known for selling specific items.
Even the new trend of selling on social media is also catching up. Depending on your niche, you need to choose the platform.
Flea markets and yard sale are the best offline markets, eBay if you want to auction, Amazon, and Craigslist for selling a variety of items. When selling handmade items and vintage goods, Etsy is the best place.
Conclusion
Demand and quality are two things you need to keep first on your list while buying goods, be they old or new.
Making serious money is possible with consistent research, and grabbing the right items at the cheapest possible rates will help you progress in your business.